Creating Aerospace Components with Investment Casting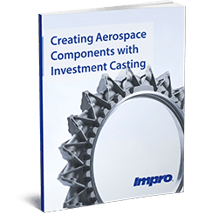 Our
Creating Aerospace Components with Investment Casting
eBook is a guide to investment casting as it pertains to vehicles, tools and instruments in the aerospace industry.
With this guide, you will gain insights about:
Aerospace applications and components that are an ideal fit for investment casting
How investment casting enables complete customization of aerospace industry parts
Material advantages and qualities provided by the investment casting process
All about the investment casting process and services at Impro.
Fill out the form here to download your free eBook!